By Scott Thomas | 21 April 2022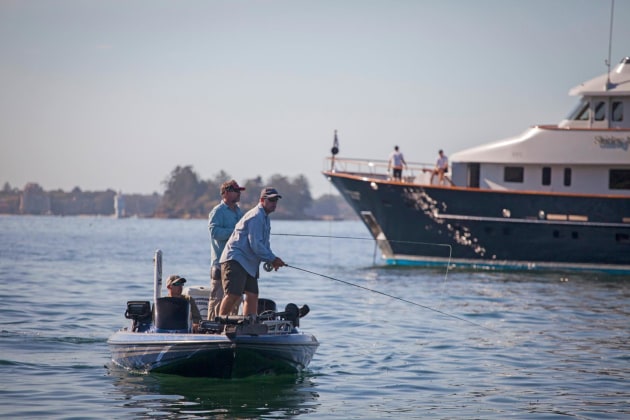 SYDNEY is a big city with a big population of keen fishos. Each week, thousands of these fishos hit the water in search of a diverse range of species and angling opportunities. They do so with many types of tackle, techniques and skill levels.
It's this fishing diversity that makes Sydney such an appealing place to live for fishos.
Over the next few pages we'll explore the opportunities within 100km from the centre of Sydney. In this article, each area is divided by location with info about fishing opportunities in all corners of the city and beyond.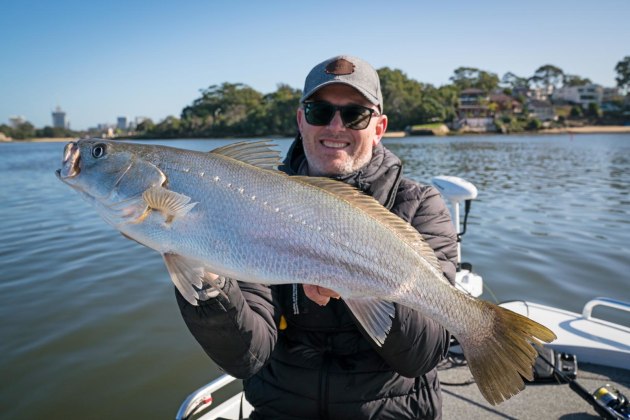 Metro
When you think of Sydney fishing you think of Sydney Harbour. There's a very good reason for that… Besides it being an iconic harbour, it's also widely recognised as one of the city's hotspots. The Parramatta River is well known for bream, flatties, and mulloway, while the lower Harbour is famous for its schools of topwater pelagics, which these days, are present almost year round. Small kingfish, salmon, bonito and tailor all frequent the lower Harbour and can be caught in the shadow of some of the city's most iconic landmarks.
Then there's Middle Harbour, which at most times of the year, holds a mix of pelagics and the aforementioned bream, flatties and jewies.
It's a busy Harbour, but the endless fishing opportunities make it a worthwhile place to fish.
If you don't have a boat, it's not a problem. The Harbour has a wide range of landbased spots. Simply open Google maps and find a wharf or a park and chances are it's worth exploring.
On that note, landbased fishos should take advantage of the excellent rock and beach fishing around Sydney. Despite the crowds, Sydney beaches can be fantastic places to target whiting and bream in the warmer months and salmon and tailor over winter. Rock fishos need to play it safe, and there are options for calmer water rock fishing wihin the Harbour itself. Depending on conditions, it's a great way to find a feed of luderick!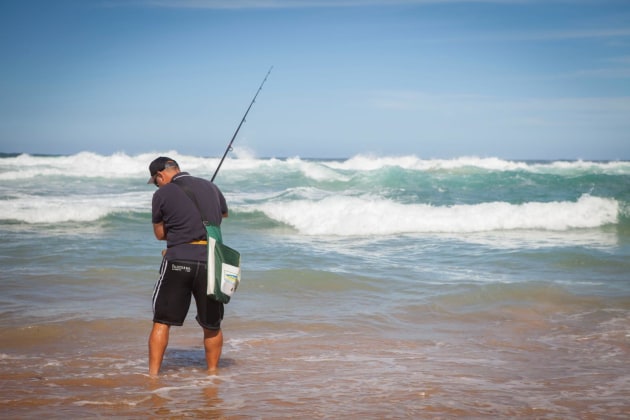 South
South of Sydney travelling 100km you have several estuaries and bays worth exploring. The popular holiday destination, Kiama, has plenty of rock and beach fishing options and several small estuaries within easy reach. Just to the north is Lake Illawarra. It's a well-known prawning spot in summer and produces some good fish as well.
Between Lake Illawarra and Port Hacking is the Royal National Park and there are several productive rock and beach fishing spots in this stretch. Most of them are fairly isolated (by Sydney standards) and some can be dangerous. Play it safe!
Port Hacking further north is a fantastic little fishery with no commercial fishing. It has plenty of shallow flats for whiting and flathead and it's not uncommon to find pelagics, including some good size kingfish, well up into the estuary.
The next estuary north is Botany Bay and the Georges River. Again, it doesn't have any commercial fishing and can produce good numbers of estuary species and pelagics. It's a wide open bay and if you're in a small boat you need to choose your weather. That said, there are many options in the Georges, or even the polluted Cooks River for some fantastic estuary fishing from bream to mulloway.
North
North of the Harbour is the Hawkesbury River. The Hawkesbury is a famous fishery and produces a wide variety of species, from its freshwater headwaters to the Broken Bay where it empties into the sea.
It's a big area and has several big "creeks" and estuaries which feed the main river. For example, there's Berowra Creek, Cowan Creek, Pittwater and Brisbane Water. Each one of these on their own can take days to fish and it's important to concentrate your fishing efforts on one area at a time. The upper reaches are productive spots for bream and flathead and estuary perch, while the lower reaches are known for mulloway, bream, flathead and a range of pelagic species. If you're coming from the south, Pittwater is a good spot to launch a boat and provides good access to Broken Bay. In the North you can access Broken Bay via Brisbane Water. To the west, launch your boat around the M1 motorway and make your way towards broken Bay past some famous fishing spots in the lower Hawkesbury.
Like any of the rivers and estuaries mentioned above, the Hawkesbury has plenty of landbased opportunities for all of the available species.
Further north and you're in the Central Coast. Again, there are some great beach fishing options and  couple of famous rock fishing spots. Some of these are great for fishing the washes and are also well known for targeting kingfish, mac tuna, bonito, even the odd longtail.
Tuggerah Lakes is the next estuary spot with a series of three productive, yet shallow spots to fish. These lakes are good for prawns and bread and butter species. They're easily accessible for Central Coast residents and are best fished from a tinny or kayak.
Further north again there's Lake Macquarie. Like many of these locations, Lake Mac deserves a story of its own. It's an enormous waterway with no commercial fishing and a large, diverse range of species. Anything from bream, flathead, mulloway, snapper and pelagics can be caught in the lake. As I said, it's a big lake and can take a while to map out the best spots. I've been fortunate to fish the lake with some locals and have never been disappointed. Even if you're based in the city, the drive north to Lake Macquarie is well worth it!
East
Sydney has some great offshore fishing grounds. Some of the inshore reefs can be productive for bottom bouncing, although these areas can get crowded. Start early in the day and increase your chances. There are still good numbers of snapper and kingfish along the reefs off Sydney for those who put in the effort and fish hard.
Sydney is also a productive game fishing area. As the East Australian Current warms the water offshore in late summer and autumn, game fishos turn their attention to marlin. Whether you're fishing from a trailer boat or fly bridge cruiser, there are options to catch marlin from the inshore waters to far out wide.
Dolphin fish or mahi mahi are also well worth targeting along the fads or floating debris out wide during the warmer months.
Over the cooler months, some years will see good numbers of yellowfin tuna appear out wide off Sydney. It's best to listen to reports and be prepared for a last minute trip. Likewise, southern bluefin tuna which sometimes make it as far north as Sydney. Again, listen to reports and if the fish show up during a period of calmer weather, call in sick, and go fishing!
West
Now for something completely different. The west of Sydney has some great opportunities for bass fishing. It goes to show the diverse fishing opportunities available in Sydney. In fact for those in the know, there are freshwater fishing opportunities surprisingly close to Sydney's CBD…
The majority of Sydney's population lives"out west", including myself. Most of the aforementioned estuaries hold bass in the upper reaches. Even the polluted Parramatta River has a population of bass. Although in my opinion you'd be better off targeting the carp in that river and leaving the small bass populations to grow.
The Nepean/Hawkesbury is the main focus of freshwater fishing for Sydney-siders. The Nepean starts off south west of Sydney. You cross the river three times near its headwaters on the Hume Highway travelling south from Sydney. Up there the river is small and sometimes hard to access. But it's worth the effort with good captures of fish.
Interestingly I've found the bigger fish are found in this stretch, although there are fewer fish to catch. A reason may be the many man-made barriers, weirs that have been in place for many years. The weirs act as small dams, and while some have fish ladders, they do impede the up and downstream passage of fish. Many of these fish become old residents and grow big as a result.
Further downstream around Penrith there's good bass fishing and access for boats. There's also good foot access if you don't have a boat.
The best all-round craft for fishing the Nepean is a kayak. There are so many good access points to launch a kayak and this gives you so many more spots to fish. It's also very heavily fished and if you can paddle away from the crowds, you stand a better chance of hooking fish. Night fishing is worth a try for the same reason.
Downstream of Penrith there's less access for a boat until you reach the Hawkesbury. The Nepean becomes the Hawkesbury around the junction of the Grose River. Downstream from here it's tidal and has some great opportunities for bass, estuary perch and saltwater estuary species.
Being close to Sydney, you'd expect a lot of crowds. And you'd be right! If crowds aren't your thing and you want to chase some bass, grab a map and explore some of the creeks and rivers that flow into the Nepean Hawkesbury. There's some fantastic bass fishing in truly remote areas, all within 100kms of Sydney's CBD.
There's also some trout fishing further west, just inside 100kms and plenty of fishing for European carp and even some redfin.
Diversity
As you can see, within easy reach of Australia's largest city is a diverse range of species and fishing opportunities. You could be a die-hard freshwater fisho with a canoe and live next door to a game fishing captain. And there's everything in between.
Get out there and explore what's in your own backyard!